PNWNAS 1996

Tenth Annual Pacific Northwest
Numerical Analysis Seminar




Local Accommodation
This page provides approximate prices to hotels in Downtown Vancouver. Prices may not be up-to-date, and since September is still a peak season, are likely to be higher. Make your reservations quickly, as Vancouver hotels are often completely full!

This page (with all its hype) has been modified from the Globe 96 conference in Vancouver (to which the link pointed previously).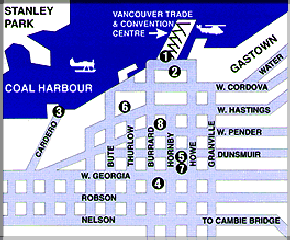 These eight hotels are conveniently located in downtown Vancouver. Please contact the hotels directly for reservations.


---
1. Pan Pacific Hotel
999 Canada Place
Reservations/ 604-622-3223
Main Reception/ 604-622-8111
Fax/ 604-622-3815
Single: $155
Double: $155
Long Stay (6 nights minimum)
Single: $145
Double: $145
This spectacular hotel is situated atop the Alaska Cruise ship terminal and the Vancouver Trade & Convention Centre (VTCC). Each luxurious room has a view of the ocean, mountain, or city. Features four award-winning restaurants and lounges, health club, squash and raquetball courts, and outdoor heated swimming pool. (Triple A, Five-Diamond).
2. Waterfront Centre Hotel
900 Canada Place
604-691-1991
Fax / 604-691-1828
Single: $150
Double: $150
Long Stay (6 nights minimum)
Single: $140
Double: $140
Vancouver's newest luxury hotel on the harbour features deluxe rooms with 24-hour room service. Highlights include a west coast theme restaurant, lounge, complimentary health club with massage available, whirlpool and steam room and outside heated swimming pool. Tunnel across to the VTCC. (Triple A, Five-Diamond).
---
3. Westin Bayshore
1601 West Georgia Street
604-682-3377
Fax / 604-691-6959
| | |
| --- | --- |
| Single: $125 | Double: $125 |
This luxury resort hotel, located in a beautiful waterfront setting, offers environmentally friendly rooms. The Bayshore is adjacent to Stanley Park. Along with Trader Vic's and the Garden restaurants, the hotel offers two lounges, whirlpool, massage, indoor and outdoor pools, health clubs, saunas and marina. (Triple A, Four-Diamond).
---
4. Hotel Vancouver
900 West Georgia Street
604-684-3131
Fax / 604-662-1929
| | |
| --- | --- |
| Single: $125 | Double: $126 |
The Hotel Vancouver is a unique heritage building and city landmark located in downtown Vancouver. The hotel features two restaurants, two lounges, deluxe health club with indoor pool and jacuzzi, 24-hour room service, executive floor (Entree Gold), business centre, complimentary morning coffee, tea and newspaper every day. (Triple A, Four Diamond).
---
5. The Metropolitan Hotel
645 Howe Street
604-687-1122
Fax / 604-643-7267
| | |
| --- | --- |
| Single: $115 | Double: $130 |
The Metropolitan Hotel is a deluxe four diamond hotel best described as quietly elegant. Situated in the heart of the city the Metropolitan Hotel is four blocks from the VTCC. There are 197 richly appointed rooms and suites including private bars, step out balconies, lighted closets, and marble bathrooms, along with a comprehensive health club, fully equipped business centre and superb Gates Restaurant. (Triple A, Four Diamond).
---
6. Renaissance Vancouver Hotel Harbourside
1133 West Hastings Street
604-689-9211
Fax / 604-689-4358
| | |
| --- | --- |
| Single: $115 | Double: $135 |
World-class accommodation overlooking Vancouver Harbour and Stanley Park. Cable TV, air conditioning, sauna, indoor pool, weight room and gift shop. (Triple A, Three Diamond).
---
7. Hotel Georgia
801 West Georgia Street
604-682-5566
Reservations Fax / 604-682-8192
Guest Fax / 604-683-1053
Rates include a full Canadian Breakfast. The Hotel Georgia is located in the heart of downtown Vancouver across from Pacific Centre shopping mall, which has over 200 stores. The hotel is four blocks from the VTCC and 10 minutes walk to Stanley Park. Facilities include 313 air-conditioned rooms, the Cavalier Grill restaurant, two lounges and a pub, plus beauty salon and shops. (Triple A, Three Diamond).
---
8. Days Inn
921 West Pender Stree
604-681-4335
Fax / 604-681-7808
This moderate hotel is conveniently located and offers superb value with 85 refurbished guestrooms. Complimentary parking and in-room coffee service. Restaurant, sports lounge with satellite TV and guest laundry facilities. Recent enhancements include voice-mail telephone service, in-room security safe and free movies. (Triple A, 2 1/2 Diamond).
---
---
PNWNAS 96 LOCATION
The City
Vancouver, British Columbia, Canada is rapidly becoming an international centre for trade and commerce. It is also one of the most spectacular and exciting cities in the world.
Vancouver provides incomparable recreational options with opportunities to fish, sail, ski and golf. At night, downtown Vancouver offers theatres, concerts and cabarets, and has a wide variety of fabulous restaurants. The whole family can take advantage of this excellent vacation opportunity.
Vancouver Facts and Figures
Altitude: Sea Level
Time Zone: Pacific
Area: 114sq. km.(44 sq.mi.)
Metro Area Population: 1.67 million
Telephone Area Code: 604

Weather: Vancouver has one of the mildest climates in Canada. Winters are wet but temperatures seldom fall below freezing. Spring is mild and summer is sunny and warm.
Tours
Vancouver and surroundings offer exceptional adventure, sporting and cultural opportunities for people of all ages. In winter, some of the best skiing in the world awaits you at Blackcomb and Whistler Mountains. After the slopes, you can relax in Whistler Village--recognized as North America's finest skiing resort. In summer, the Whistler area offers great hiking, backpacking, golfing and water sports.
Take the ferry over to Victoria on Vancouver Island and have tea at the Empress Hotel or spend an afternoon touring Victoria's spectacular museums and gardens. The Island offers a host of outdoor activities from fishing, killer whale watching, hiking and sea kayaking.
Minutes from downtown Vancouver, take the gondola up Grouse Mountain for some night skiing, dinner and panoramic views of Vancouver. Stanley Park in Vancouver offers dense forests for hikers and a scenic bicycle route around the sea wall. The Museum of Anthropology, Gastown, and bustling Chinatown are additional attractions to enlighten and delight any visitor.




Go to the PNWNAS main page.




---
Revised September 9, 1996 by Manfred Trummer (mrt@cs.sfu.ca).