Computational Fluid Dynamics Research Group
I have been extremely fortunate to have worked with a number of talented students and postdoctoral fellows over the years. Here is a recent picture of the CFD group: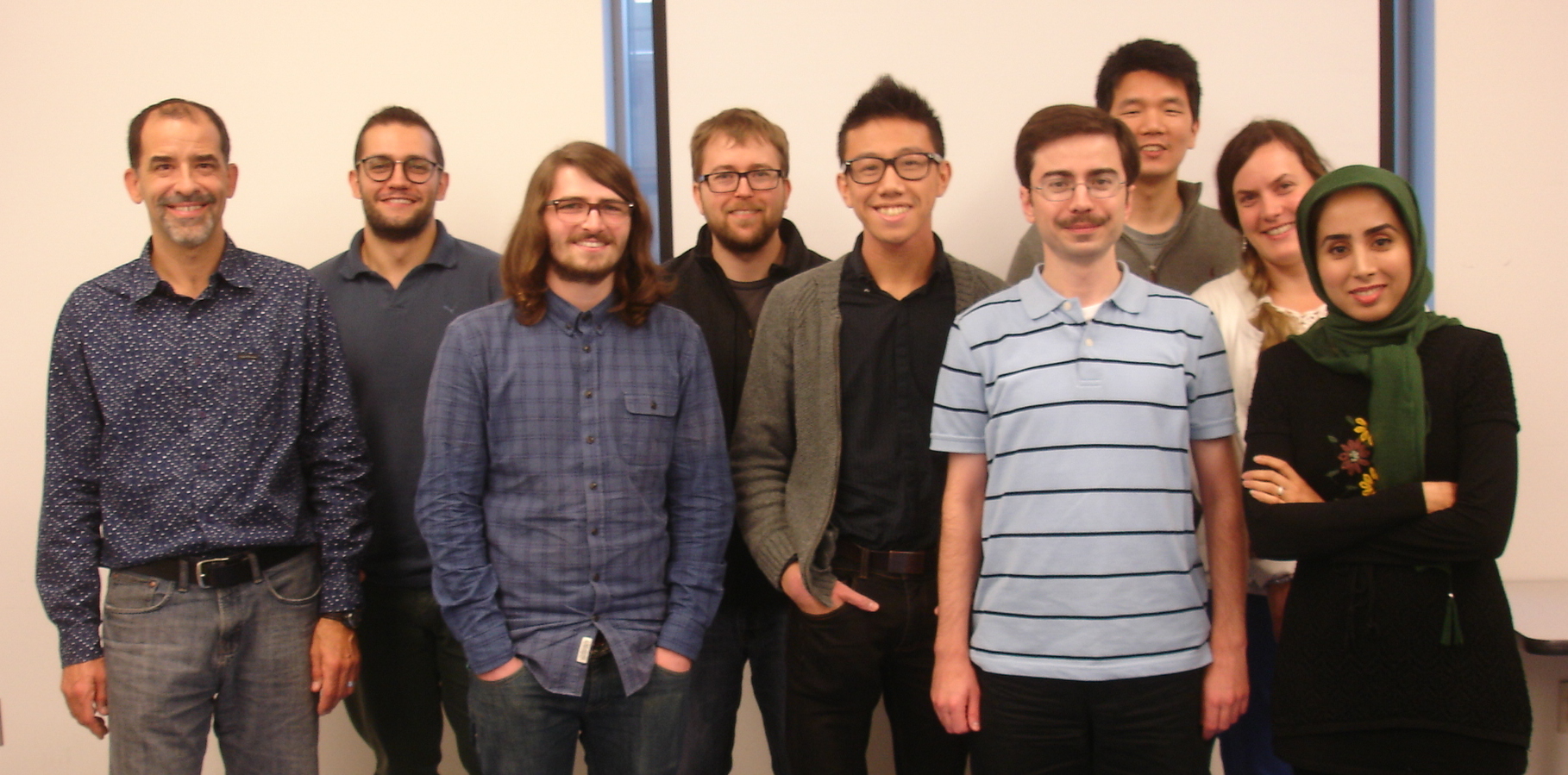 (l-r) John, Bamdad, Ray, Jeff, Jeremy, Bebart, Will, Isabell, Maryam.


We hold regular group meetings to discuss our research and related topics. Some more information about what we are doing scientifically is below:
Tian Chen (PhD, 2016-).

Juan García (MSc, 2015-2018): Parameter estimation and uncertainty quantification applied to advection-diffusion problems arising in atmospheric source inversion.

Mohammad Alamgir Hossain (PhD, 2015-): Modelling and simulation of glacial ice sheet dynamics.

Saeed Mirazimi (MSc, 2015-2018): Immersed boundary simulations of active suspensions of swimming particles.

Nicola Mulberry (MSc, 2016-).

Ray Walsh:

PhD (NSERC Canada Graduate Scholarship, 2016-): Mathematical modeling of cloud edge dynamics.
. . . and in their spare time (exploring Vancouver's beautiful north shore mountains) . . .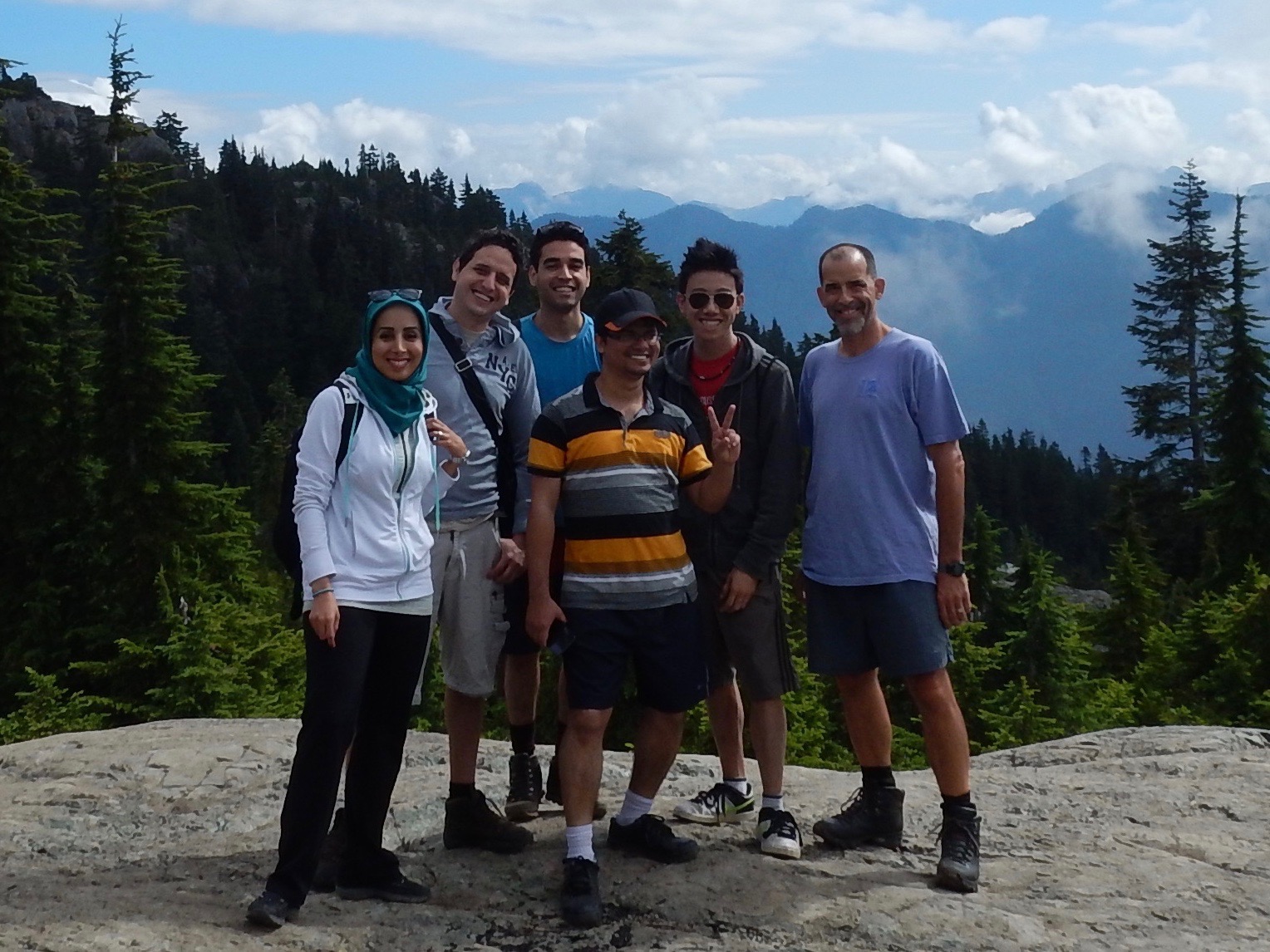 Past students & post-doctoral fellows:
| | | | | | |
| --- | --- | --- | --- | --- | --- |
| | | | | | |
| Bamdad (PhD) | Bebart (PhD) | Maryam (MSc) | Jeremy (MSc) | Will Ko (PhD) | Isabell (Postdoc) |
| | | | | |
| --- | --- | --- | --- | --- |
| | | | | |
| Jeff (PhD) | Sudeshna (PhD) | Haowen (MSc) | Maurizio (Postdoc) | Reanne (MSc) |
| | | | | |
| --- | --- | --- | --- | --- |
| | | | | |
| Eric (BSc) | Michael (Postdoc) | Samir (BEng) | Huijing (BSc) | Amit (BSc/MSc) |
| | | | |
| --- | --- | --- | --- |
| | | | |
| Badri (MSc) | Evgeniy (BSc) | Wentao (BSc) | Enkeleida (MSc) |
Bamdad Hosseini: Currently an NSERC Postdoctoral Fellow at CalTech.

Bebart Janbek (PhD, 2010-2017): Sap flow and heat transport in trees: An asymptotic and numerical study.

Maryam Zarrinderakht (MSc, 2014-2017): Numerical simulations of a multiscale model for maple sap exudation.
Currently a PhD student at University of British Columbia.

Jeremy Chiu (MSc, 2013-2015): Mathematical model of thermoregulation in honeybee swarms.
Currently a Mathematics Instructor at Langara College.

Will Ko (PhD, 2011-2015): Parametric resonance in immersed elastic structures, with application to the cochlea.
Currently a Postdoctoral Fellow at McMaster University.

Isabell Konrad (Feodor Lynen Postdoctoral Fellow, 2013-2015): Periodic homogenization of multiphase flow and heat transport in trees.
Currently a Data Scientist at Comsysto Reply GmbH (Munich, Germany).

Jeffrey Wiens: Currently at MDA Corporation (Richmond).

Darrell Tse (Undergrad, summer 2014): Experimental study of immersed water balloons.
Currently at Goldman Sachs (London, UK).

Nina Krüger (DAAD RISE intern, Jacobs University Bremen, summer 2014): A mathematical model for penguin huddling.

Sudeshna Ghosh (PhD, 2007-2013): The immersed boundary method for simulating gravitational settling and fluid shear-induced deformation of elastic structures.

Graham Moore (Undergrad, summer 2013): Mathematical modeling of sap flow in trees.

Haowen Fang (MSc, 2010-2013): Two dimensional immersed boundary simulations of swimming jellyfish.
Currently a Business Analyst at ZE PowerGroup.

Maurizio Ceseri (Mitacs Postdoctoral Fellow, 2011-2012): Modelling of sap flow in maple trees.
Currently a Research Associate at Sportello Matematico per l'Industria Italiana (a new industrial math institute in Italy).

Reanne Bowlby (MSc, 2009-2011): A Roe solver for a multi-class traffic flow model.
Currently a Computational Biologist at the BC Genome Sciences Centre.

Samir Jain (Undergrad from IIT Bombay, summer 2011): Nonequilibrium models for gravity driven fingering instabilities.
Currently an Associate at Capital One (Bangalore).

Eric Cai (Undergrad, summer 2011): A multiscale model for the PEM fuel cell catalyst layer.
Currently a Data Science Consultant at Environics Analytics.

Michael Chapwanya (Postdoc, 2006-2009): Fingering instabilities in porous media; Coupled flow and reaction chemistry in concrete.
Currently an Associate Professor at University of Pretoria.

Nathan Nastili (BSc math major project, 2010): Investigation of motion camouflage using numerical simulation.

Huijing Wang (Undergrad, 2009-2010): Mathematics of sport.

Kevin Lorimer (NSERC Undergrad Research Assistant, summer 2009): Porous medium model of sap flow in trees.

Amit Chandra (Undergrad from IIT Kanpur, summer 2009): Modelling of heat transport in tree trunks.

Badri Ratnam (MSc, 2006-2008): Porous immersed boundaries.
Currently an Engineer at Westport Innovations.

Evgeniy Lebed (Undergrad, summer 2006): Numerical simulations of pollutant dispersion.
Currently a Research Analyst at MDA Systems.

Wentao Liu (Undergrad, summer 2006): A model for clogging in reactive porous media.
Currently a Postdoctoral Fellow at Purdue University.

Xin (Simon) Wang (MSc, 2004-2006): An analytical and numerical study of parametric resonance in immersed elastic boundaries.
Currently a Quantitative Analyst at Fincad Analytics.

Enkeleida Lushi (MSc intern with Teck Cominco Ltd., 2005): Dispersion and deposition of particulate matter from stacks.
Currently a Postdoctoral Fellow at Brown University.

Pengtao Sun (Postdoc, 2004-2005).
Currently an Associate Professor at University of Nevada Las Vegas.

Mohammad Kermani (Postdoc, Mechanical Engineering, UNB, 2000-2003).
Currently an Associate Professor of Mechanical Engineering, Amir Kabir University, Tehran, Iran.
Some older pictures: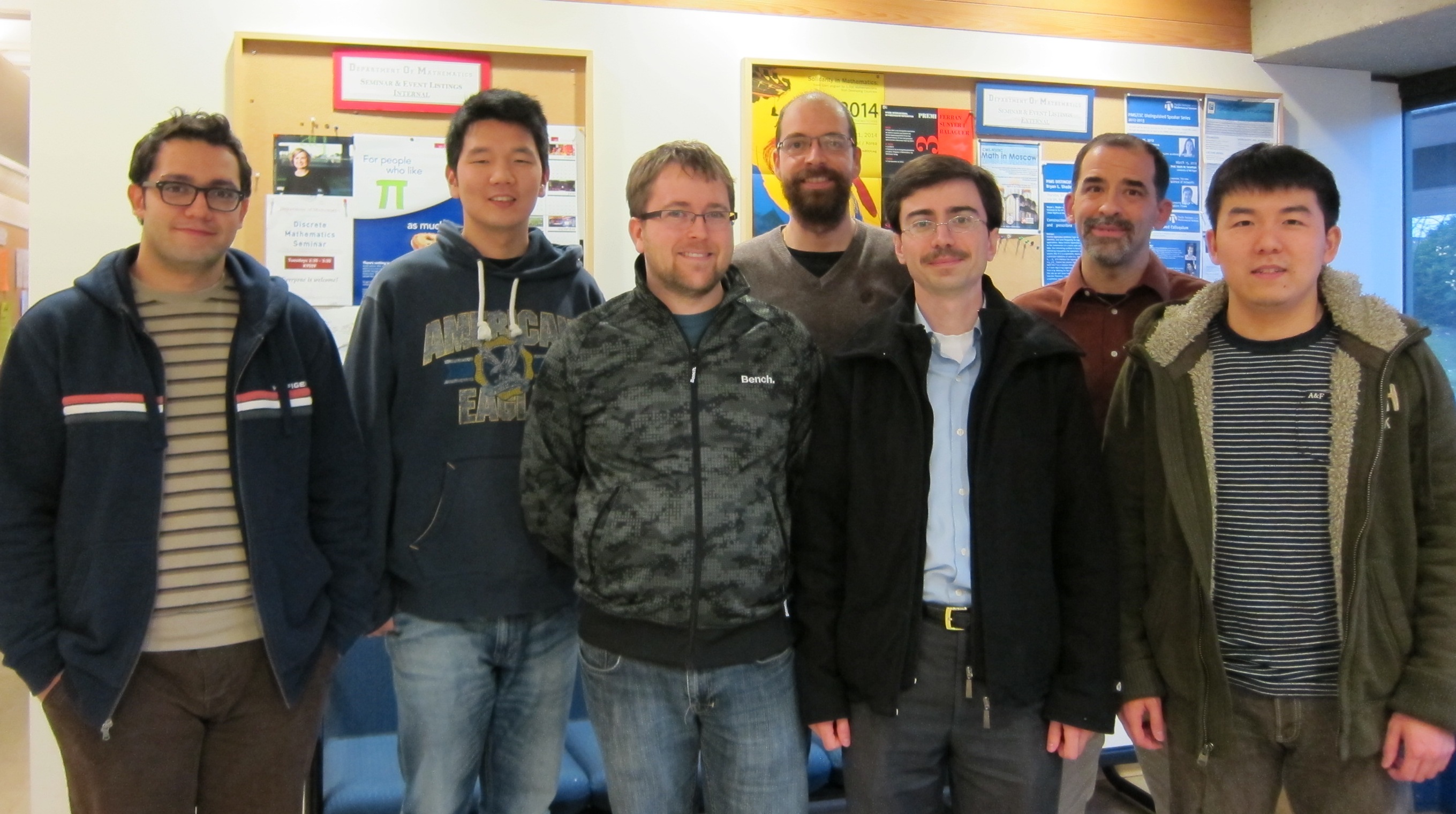 (2012)
---